I am linking up with
Darci
today for her Santa Picture Fail. I have been MIA the passed few days and I have a lot going on and just haven't had time to blog. My grandfather who had been suffering with lung cancer, passed away on Sunday night. He was at home and we were all with him. I hope I never have to experience anything like that again. Seeing someone so helpless and in so much pain. I am glad he is at rest but he will be greatly missed. So this will probably be my last post for the week, I have the wake tomorrow and the funeral Friday. Enjoy your family this holiday season, life is too short!
While I had this terrible loss I also have had some exciting things happening as well. I had an interview Monday and another one on Thursday - same company, two different departments. This also happens to be the same company I interviewed for in September, where the lady was very rude and never responded to my follow up emails and calls. So say a prayer and cross your fingers for me, because I REALLY want to work for this company!
Ok, so on to the link up!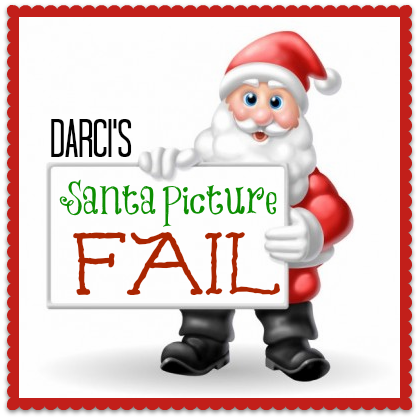 Ok, so unfortunately I only have one of our santa pictures saved here at work but that is ok because it is the most epic one we have. It was last year. My oldest is 5 and my youngest was 1, almost 2 at the time. We told them both that if they smiled real big and sat nicely that Santa would bring them whatever they wanted - Only because we knew what the oldest wanted and we had already bought it =) ... and of course our 1 year old had no idea what we were talking about and we could of told him Buzz Light Year himself would come play with him if he did a good job and it wouldn't have mattered a bit - this kid was having nothing to do with the fat guy in the suit!
So here is what we ended up with:
Naughty & Nice at it's finest! We laughed so hard when we saw it, we decided to make it our Christmas card last year - I made it say - Have a Holly Jolly Christmas! and then underneath the pic I put, Some of us are a little less jolly than others! ... It was great, we had so many people telling us it was the best card they got last year and they laughed everytime they saw it.... This year, I got nothin'! I tried to think up something clever but nothing would compare to that one, so I just didn't send any out ... lame sauce, I know!
Oh well - head on over the Darci's blog to see all the other Santa Pic Fails!