Hey ladies! How you doin' today? It's hump day! Still wish it was Friday though, but whatevs.
So anyways, on to my reason for this here post is I have decided to join the
Operation Red Bikini with Kassie & Lea Anne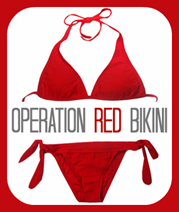 So my goal will not be to wear a bikini because I know I will not be bikini ready by May 31st - but my goal is to fit into a pair of shorts and a tank top without being uncomfortable or self-conscious. I have gone through too many summers being miserable because I refused to wear shorts or sleeveless shirts or God forbid put a swimming suit on. So this year I am gonna change that!
I am not asking for much, just a cute pair of shorts. I have always loved the way white shorts looked but have never had the courage to buy them.

So I will be looking or an outfit, similar to this.

I never wear anything but bermuda shorts or capris now, but it will be so nice to let my white legs get some sun and some air!
If you are interested in joining the Operation Red Bikini - I don't think it is too late, so head on over and sign up!! I think the prize is going to be amazing as well, but getting into this outfit would be enough prize for me! =)
Also go check out
Megan
she posted an arm workout that I plan on using to get those guns, for that tank top I will be wearing! She has posted other workout videos as well, this girl is a machine!!
Bye for now!