First off I am linking up with
Holly
for her What's In Yo' Fridge?! link up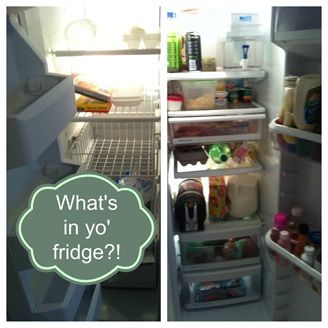 Here is a pic of my fridge:
Freezer:
Kansas City Steaks (bomb.com), hotdogs (so what if my 3 year old practically lives off of them), Gordman's Fisherman fillets, ground turkey (i put that shit in everything!), Frozen veggies, frozen pizza (gag a maggot) and chicken breast.
Fridge:
Momma's Wine and a bottle of Champaigne in the door (never know when you will need one!), Dad's sugar filled tea, skim milk, grapes, eggs, mushrooms, light butter (is there really such a thing??), gogurt, left over stuff, drawers have veggies and lunch meat ... door has condiments and jellys and shit like that.
There you have it, my
exciting
extremely boring fridge! Now go link-up, all the cool kids are doin' it!
Onto V-day or as I like to call it, just another day. I started the day with work - womp womp, but then I got to leave early to go to L's Valentine's party. I made him this kick ass box that his dad totally made fun of to hold all this Valentine's cards from his "friends"
After seeing the other boxes I did a damn good job, so the husband can suck it!
Then we came hom and played a crazy game of Uno! He is really good for a 6 year old, beats me all the time!
Then it was time for dinner - my brother works at a restaurant here in town as a head chef and was able to squeeze us in last minute. It was very good as always - my favorite restaurant.
I might have drank two or three one of these - called a frutini, good shit!
My entree was pork chops - best damn porkchops I have ever had!!

So all in all a great Vday.