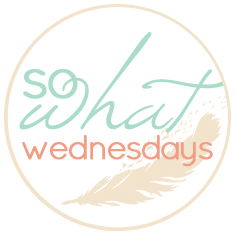 First attempt at this so here goes:
So What If:
1. Today is my Friday and I am EXTREMELY happy about this.
2. My husband has been out of town all week and I've enjoyed doing whatever the hell I want.
3. My kids ate mac and cheese for dinner twice in 3 days, because I'm too lazy to cook a huge meal that only I will eat. At least it wasn't the nasty stuff out of the box ... whatever makes me feel better, right?
4. My boss just left for the day and I am not doing another damn thing but counting down the minutes until 4:00.
5. I spent $30 on makeup yesterday and felt bad - I always feel bad spending money on myself, why is that?!?!
6. My blog name is momma on a mission to get healthy but the only think I've been on a mission for lately is seeing how many powdered donuts and samoas I can stuff in my mouth at once.
7. I am totally over this winter weather shit - Spring show yourself already damnit!
8. I sleep with all the lights on in my house except for mine and my kid's rooms when the Husband is out of town.
9. If I think there is some kind of ghost or spirit in my house hence the reason for #8.
10. I want to get rid of my cat because I hate cleaning the damn litter box and she rarely comes out anyways, at this point we are just feeding her and cleaning her shitty litter box. I am so not a cat person ... never again!
This was fun ... maybe I will keep doing it ... we'll see. Happy Friday, errr I mean Wednesday =)