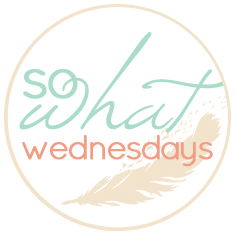 Linking up today with Shannon @ Life After I Dew for So What Wednesday
So What If ....
1. I am bored at work and taking ridiculous pictures of myself.
2. I totally took
Tara's
idea and started doing squats, wall push ups and wall sits every time I pee at work, because I pee a million times a day... It's 1:30 and I've done 40 squats, 80 push ups and about 3 mins worth of wall sits - hell ya! get it in when ya can ladies (twss).
3. I drank a bottle and a half of wine by myself on Saturday night - I felt amazing!!!
Bottoms up!
4. I wore jeans and sandals to work today - just wasn't feelin' dressin up and the boss is out of town.
5. I was hoping my son's baseball practice would be cancelled from the rain today so I'm not even sure I have all his "gear" in the car, now they are saying the heavy rain is going to hold off until 7:00, so he will probably have practice.
6. I had to re-wash clothes in the washer last night because I was too lazy to switch the load the night before.
That's all I got today - hope you are all having a good "hump day"!