Linking up with Holly, Chrissy and Lindsey today for the - Share your favorite birthday story link up.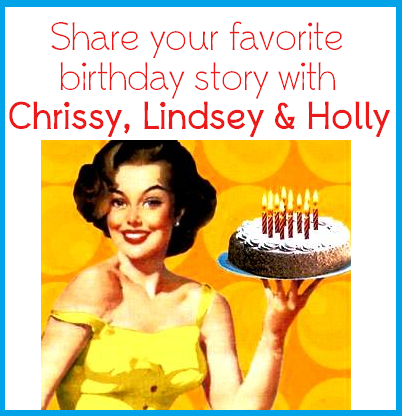 I don't have a wild and crazy story or anything like that. Mine was back when I turned 19 years old. The husband and I had just started dating. We had only just met a month before but we spent a lot of hours on the phone at night talking and getting to know everything about each other. In those conversations I had mentioned that I loved sunflowers, that Italian food was my favorite and that I had just recently gone to my first Cardinals baseball game and loved it.
So when my birthday came around The Boyfriend told me he had a night planned for my birthday but would give me no details. When I got to his apartment he had a HUGE bouquet of flowers for me with the biggest sunflowers, it was so pretty! I was impressed. Then he said ok, lets go, we have a lot to do!
He then drove us downtown and took me to the Old Spaghetti Factory to have some Italian food. He told them it was my birthday, so they sang to me and we both died laughing when they called me Sarah instead of Samantha - we still joke about that 12 years later! He gave me my gifts at the restaurant - a silver bracelet that I LOVED!! and a card that when I opened it had 2 tickets to that nights baseball game - with a heartfelt note saying how much he loved me.
We went to the game and had so much fun! It really was one of the best birthdays I ever had. It wasn't wild and crazy but it was thoughtful and heartfelt - he listened to everything I had told him before and made sure to do all of my favorite things and made my day very special. He really impressed me that night and I will never forget that special day.
Ok, enough mushy stuff for one day!! =)