Linking up again today
Holly
and
Jake
for yet another installment of Finish The Sentence ..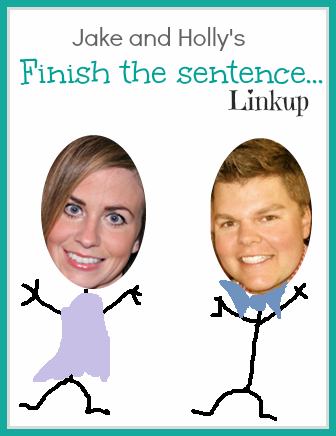 Unlike my sibling(s) (that I love very much)....
I don't have a penis. (I am the only girl)
My best friend says...
I'm cray cray … and I'm like yeaaaaaaahhh whatever.
People call me...
the sweetest bitch you'll ever meet, oh wait, wrong Sammie =) … yeah I like Jersey Shore, don't judge me!
I most often dream...
of being Channing Tatum's love slave.
The best part of my day...
taking a shower, locking the bathroom door and not hearing… Mooooom, I need, I want, will you …. Silence…..
I really don't understand...
I get really annoyed..
when em-effers can't put a new roll on the toilet paper holder – you use the last square you put a new roll on… do you like drip drying, cuz I don't!!
There's nothing like a...
good poop – seriously, best feeling in the world =)
Lately, I can't get enough...
of The Voice! .. American Idol who??
One thing I am NOT is...
trendy, and I'm alright with that. Let me tell ya, some of these floral designs that look like my grandma's couch threw up – yeah, nothankyouverymuch. I will stick with my v-neck sweaters and khaki pants.
I spent too much money on...
I want to learn....
to just say no. Say no to the bacon cheeseburgers, no to the reeses eggs, no to the nut fudge sundae from Ted Drews … and the list goes on. Fat girl problems up in this motha!
If I ever met _Channing Tatum_, I would...
be his love slave, duh!
I can't stop...
thinking about Channing Tatum – seriously, it's a problem.
Never have I ever...
been to a concert. Sad, I know. I am 30 years old and never been to one. Honestly that amount of people in one place freaks me out. The idea of a mosh pit makes me sweat and hyperventilate …
Reese Witherspoon...
is human, give the bitch a break -

you know your ass has driven after drinking a little too much before and you know your ass has said some fucked up shit when you were drunk – move on people, move on.