Hey Finish The Sentence Link-Up - long time, no see buddy!! Glad you're back =)
Linking up with the Hilarious
Holly & Jake
for another installment of: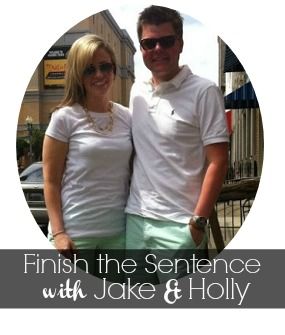 Warning: I am going to be totally stupid with these answers, I don't have the energy to be serious =)
My happy place... Magic Mike on the tv screen, sweat pants on my legs, oreo cookies in one hand and a nice, cold glass of milk in the other and no husband or children to be found!

Whatever happened to...Sally Jesse Raphael and those sweet red glasses??
Yep, still looks like a man, with sweet red glasses!
So what if I....have no fashion sense and could give two shits what is "in" at the moment.
My go-to fast food meal is...a fat Doner Kebob from the Gyro Company - don't know what a Doner Kebab is, then you haven't lived.
You might not know that I... spend about 80% of my day pinning and printing recipes that I NEVER end up cooking ... waste. of. time.
The hottest quarterback in the NFL is... unless Channing Tatum is now a quarterback then I could give a rat's butt =)
My personality is awesome because...I am a people pleaser, it's a curse, I can't stop and I won't stop ...
Twerking is....so old news - Whistle While You Twurk?? anyone??
I think it's super gross when...people pick any part of their body and then put said picking in their mouth, I will literally throw up on their feet!
Yep, I just threw up in my mouth!